To meet all the information service needs of our customers, we use a nationwide network system that is connected to all of our domestic offices to provide reliable information in real time.
This electric data interchange(EDI) allows us to provide even higher quality distribution services.
An Example of EDI's Planned Receipt of Objects
from Customer to Chikko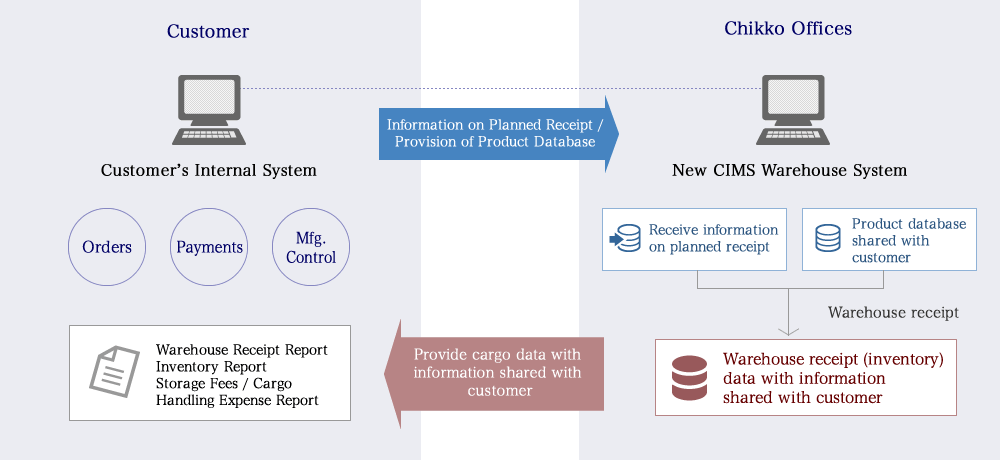 POINT
1. We are able to accurately and speedily process warehouse receipts using planned eceipt information.This prevents product/lot mis-entries and can shorten dispatch time.
2. We are able to provide cargo data with information shared with the customer by sing a shared product database (product codes).
We manage cargo data that parallels our customers information management, so we ask that you provide us with all relevant databases.
An Example of EDI's Planned Shipment (Instructions)
from Customer to Chikko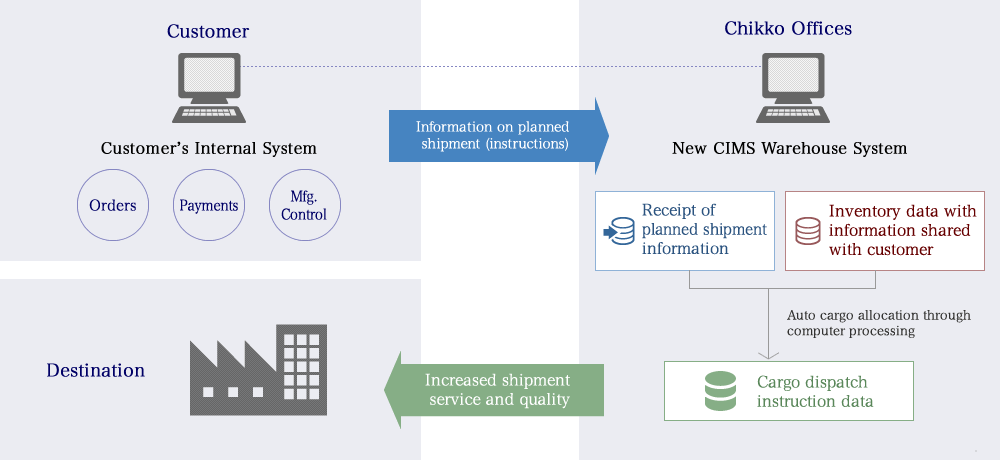 POINT
1.We are able to accurately and speedily process warehouse dispatches using information on planned dispatch.
2.By reducing the time required to process the dispatch, we are able to extend the deadline of the dispatch instruction.
3.We can reduce lead times.
4.Through automatic cargo dispatch allocation, we can prevent allocation errors.
5.Managing data on dispatch instructions allows us to provide traceability.
Automatic Cargo Allocation
Chikko's system is equipped with automatic allocation functions to prevent dispatch allocation errors and provide speedy processing. We can accurately allocate cargo dispatches using information shared with the customer and their databases.
Allocation Conditions
The system supports product name, specifications, lot designation, receipt number, warehouse receipt order number, and designation for items to hold.
Allocation Sequence
The system supports date of warehouse receipt, manufacture date, and receipt number
Measures to Prevent Dispatch Errors
Machines can accurately and reliably allocate, but an error when entering information will mean errors in cargo allocation. Here at Chikko, our workers are responsible for double-checking the customer's dispatch instructions and the dispatched cargo to prevent these errors and increase the quality of our distribution.