CHIKKO VIETNAM CO., LTD.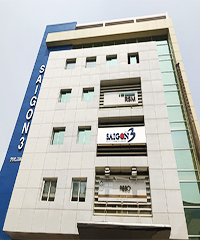 Vietnam currently is in the growth of stable economy. Transactions of dangerous and chemical products are also developing in number these days. In order to deal with this situation, we established "Chikko Vietnam Company Limited" in Hochiminh, October 2017 as a center of logistics of dangerous products of Vietnam and launched Forwarding transaction.
Starting from giving suggestion on the best transportation means that customers need, we undertake all the transactions including warehouse storage, customs clearance, local paperwork, end-user delivery, and intermediary trade regarding dangerous/chemical products in each place in Vietnam.
Our Vietnam office has Japanese staff on duty to provide timely and meticulous service.
Notice of establishment of a subsidiary in Vietnam
For customers who have a problem with chemical distribution.
The following materials are available in the local subsidiary CHIKKO VIETNAM CO., LTD.
Introducing the outline.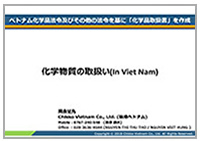 See sample information
"Chemicals handling in Vietnam"
1. Chemical products and Dangerous chemical products
2. Toxic chemical products, New chemical products
3. Handling of chemical products
4. Transport and storage of dangerous chemical products
5. Conditional regulated chemical substances <Appendix I>
6. Restricted regulated chemical substances <Appendix II>
7. Banned chemical substances <Appendix Ⅲ> and toxic (toxicity) chemical substances
8. Prevention of the accident・Chemical substance the requires the preparation of
a correspondence plan <Appendix Ⅳ>
9. Chemical substances that require import declaration <Appendix Ⅴ>
10. GHS classification, dangerous chemical products, relationship of IMDG CODE
11. The interpretation of chemical ordinance and provision exception
12. Apprication for each Appendix substance
13. Transport of dangerous chemical products
14. Storage of dangerous chemical products
15. Dangerous chemical products labels
16. Report of chemical related activity
17. Administrative penalty in the chemical sector
18. SDS (Safety Data Sheet) description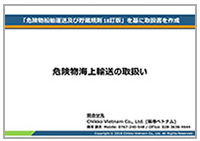 See sample information
"Maritime transport regulations of dangerous goods (IMDG CODE)"
1. Relationship between the IMDG CODE and dangerous goods regultions.
2. Type of Hazard
3. Relationship between GHS and IMDG CODE.
 ◆ Physical hazard
 ◆ Health hazard
 ◆ Environmental hazard
4. Criteria for determining hazard
 ◆ Physical hazard
 ◆ Health hazard
 ◆ Environmental hazard
5. Check the contents of SDS
6. Containers for the transport of dangerous goods (UN container)
 ◆ Small container or high pressure container
 ◆ IBC container
 ◆ Portable tank
 ◆ Reference: Laws and regulations excerpt (Container)
7. Label of the dangerous goods (Label, Mark, Name of product, UN number etc.)
 ◆ Label of the cargo
 ◆ Label of the container
 ◆ Reference: Laws and regulations excerpt (Label)
8. Quarantine regulations of dangerous goods
9. If the storage inspection is required
If you are having trouble with chemical logistics, please feel free to contact the following.
【in Japanese】 Kenji HirosawaTEL. +84-76-7240-548(Direct phone)
【in Vietnamese and English】TEL. +84-28-3636-4644
【mail】Contact Form
Company Outline
Company Name
CHIKKO VIETNAM CO., LTD. (CHIKKO VIETNAM COMPANY LIMITED.)
Address
Room 101, Saigon 3 building, 140 Nguyen Van Thu street, Dakao Ward, District 1, HCMC, Vietnam
TEL. +84-76-7240-548(in Japanese)

+84-28-3636-4644(in Vietnamese)

Capital
US $450,000
Business Areas
Customs duties of import/export cargo, domestic and international transport, warehousing and import/export agency, and others listed below.
(Contract shipping, booking, warehouse storage, refilling, loading and unloading into container, calculation and payment of incidental costs, customs clearance, inspections, logistic consulting, NVOCC service, import/export business agency)
Notes

1. NVOCC service for dangerous goods and chemical products.
We provide international multimodal transport service with safe and speedy through our expertise and experience in dangerous goods and chemical logistics. We transport dangerous goods and chemical products from door to door with a compliance emphasis.
2. Logistics consulting.
We are accepting consultations on the handling of chemical products such as Vietnam domestic chemical laws and dangerous goods maritime transport regulations.
3. Arranging and managing for stock point.
In order to meet the needs of our customers, we offer a variety of warehouses, including dangerous goods warehouses, bonded warehouses and constant temperature warehouses.
4. Domestic and international transportation (including import/export clearance)
We provide speedy import and export customs clearance by confirming the appropriate transportation method, package and the HS CODE, and we will undertake all of the chemical distribution in Vietnam and overseas.
5. Importer/exporter license.
We have an importer/exporter business license.
・ Approximately 25 minutes by Taxi from Tan Son Nhat International Airport.