CHIKKO VIETNAM CO., LTD.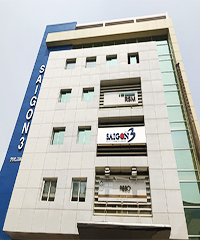 Vietnam currently is in the growth of stable economy. Transactions of dangerous and chemical products are also developing in number these days. In order to deal with this situation, we established "Chikko Vietnam Company Limited" in Hochiminh, October 2017 as a center of logistics of dangerous products of Vietnam and launched Forwarding transaction.
Starting from giving suggestion on the best transportation means that customers need, we undertake all the transactions including warehouse storage, customs clearance, local paperwork, end-user delivery, and intermediary trade regarding dangerous/chemical products in each place in Vietnam.
Our Vietnam office has Japanese staff on duty to provide timely and meticulous service.
Notice of establishment of a subsidiary in Vietnam
To customers who are having trouble with chemical logistics to Vietnam
Our Vietnam office is able to respond Japanse to Vietnam chemical law.
We introduce the outline of information for chemical handling in Vietnam based on the law.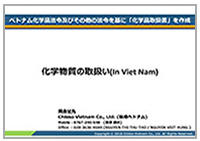 See sample information
1. Chemical products and Dangerous chemical products
2. Toxic chemical products, New chemical products
3. Handling of chemical products
4. Transport and storage of dangerous chemical products
5. Conditional regulated chemical substances <Appendix I>
6. Restricted regulated chemical substances <Appendix II>
7. Banned chemical substances <Appendix Ⅲ> and toxic (toxicity) chemical substances
8. Prevention of the accident・Chemical substance the requires the preparation of
a correspondence plan <Appendix Ⅳ>
9. Chemical substances that require import declaration <Appendix Ⅴ>
10. GHS classification, dangerous chemical products, relationship of IMDG CODE
11. The interpretation of chemical ordinance and provision exception
12. Apprication for each Appendix substance
13. Transport of dangerous chemical products
14. Storage of dangerous chemical products
15. Dangerous chemical products labels
If you are having trouble with chemical logistics, please feel free to contact the following.
【in Japanese】 Kenji HirosawaTEL. +84-76-7240-548(Direct phone)
【in Vietnamese and English】TEL. +84-28-3636-4644
【mail】Contact Form
Company Outline
Company Name
CHIKKO VIETNAM CO., LTD. (CHIKKO VIETNAM COMPANY LIMITED.)
Address
Room 101, Saigon 3 building, 140 Nguyen Van Thu street, Dakao Ward, District 1, HCMC, Vietnam
TEL. +84-76-7240-548(in Japanese)

+84-28-3636-4644(in Vietnamese)

Capital
US $450,000
Business Areas
Sea import/export of cargo, domestic transport and warehouse storage, and others listed below.
(Contract shipping, booking, warehouse storage, refilling, container loading and unloading, calculation and payment of incidental costs, customs clearance, inspections, shipping consulting, NVOCC service)
Notes

1.Dangerous goods import/export NVOCC between Japan and Vietnam
We ship dangerous/chemical objects from door to door.
We handle all cumbersome Vietnamese laws and compliance oversight.
2.Arranging and managing dangerous goods stock points
We shorten local procurement lead times so your customers don't have to wait.
3.Trilateral trading
We have safer controls when shipping dangerous/chemical objects from Vietnam than from Japan.
4.Dangerous goods NVOCC
We provide dangerous goods NVOCC with Vietnam shipping as well. (License obtained July 2017)
・ Approximately 25 minutes by Taxi from Tan Son Nhat International Airport.