Chikko Shanghai Corporation (CSC)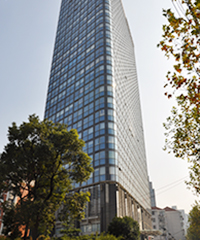 Trade with China makes up a huge portion of international trade today. China continues to import and export a large amount of dangerous and chemical objects, and through WTO agreements and China's policies on loosening foreign capital it has become possible to establish a company with independent foreign capital.
Chikko wasted no time in establishing a center for dangerous goods distribution in China that would be a 100% owned subsidiary, so in January 2008 we established Chikko Shanghai Corporation (CSC) in Shanghai and began our forwarding business. We provide ideas on ideal shipping methods to meet our customer needs, as well as dangerous/chemical objects warehouse storage, customs clearance procedures, local paperwork, end-user delivery, and all other aspects of forwarding in Shanghai and China.
Our Shanghai office has Japanese staff on duty to provide timely and meticulous service.
Please contact us for further consultation.
Company Outline
Company Name
Chikko Shanghai Corporation
Address
Room 2506 Hongqiao Yincheng Building, 933 Zhongshan West Road, Changning District, Shanghai 200051 China
TEL. +86-21-3183-8278(in Japanese)

+86-21-3183-8279(in Chinese)

Capital
US $700,000
Business Areas
Sea, land, and air import/export of cargo, international exhibitions, personal items, international shipping proxy, and others listed below.
(Contract shipping, booking, consignment, warehouse storage, refilling, container loading and unloading, calculation and payment of incidental costs, customs clearance, inspections, quarantine, insurance procedures, related short-distance services, shipping consulting, NVOCC service)
Notes

1.Dangerous goods import/export NVOCC between Japan and China
We ship dangerous/chemical objects from door to door.
We handle all cumbersome Chinese laws and compliance oversight.
2.Arranging and managing dangerous goods stock points
We shorten local procurement lead times so your customers don't have to wait.
3.Intermediary trade
We have safer controls when shipping dangerous/chemical objects from China than from Japan.
4.Dangerous goods NVOCC
We provide dangerous goods NVOCC with Shanghai shipping as well. (License obtained September 2008)
・ Approximately 10 minutes walk from "Songyuan Road" station subway line 10.
・ Approximately 15 minutes walk from "Hongqiao Road" station subway line 3,4 and 10.